Produktbeschreibung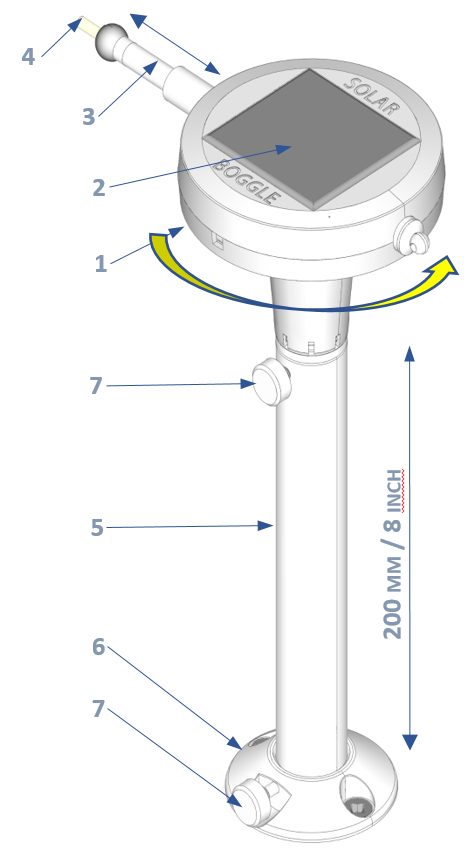 BirdBoggle is a µP-controlled repellent device. The Rotor 1 turns cyclic and by means of a telescope 3 birds in the vicinity are scared away. The Rotor 1 houses all required elements for an autonomous operation. Power supply is provided via an integrated LION battery and a solar cell. BirdBoggle is maintenance free and protects your boat for months. BirdBoggle can be attached as well as detached within seconds.


Main Switch, Storage: In vertical down position of the Master Switch 8 the battery is disconnected (storage). Tilt the Rocker switch outward (green) to activate BirdBoggle's low mode (2 sec. turning). Tilt the rocker switch inward activates BirdBoggle's high mode (5 sec. turning).
The idle time between two turns is 30 seconds and will be automatically extended with lower charging status of the battery. BirdBoggle indicates On-Mode by a blinking LED 9 at the telescope exit.
The integrated LION battery is charged by means of a solar cell 2 and may supply BirdBoggle for days with covered sky. Take care that the selected location allows some sunlight hours per day to keep battery charged.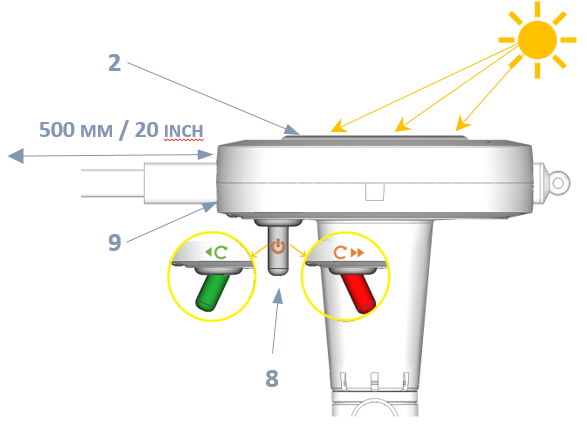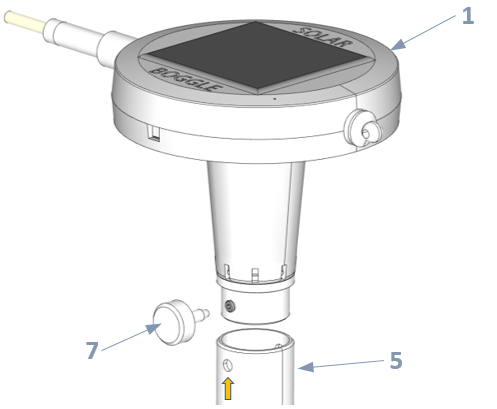 Attachment with Mounting Plate: BirdBoggle can be attached by means of a standpipe 5 and a mounting plate 6. The mounting plate 5 must be screwed down with suitable screws 10 (not enclosed). Take care that no critical boat components are damaged and that the mounting location allows free turning of rotor 1. Release the knurled screw 7, check direction and insert the standpipe (1" dia, 8" length) into mounting plate – and retighten knurled screw 7.
Install the rotor: Open the knurled screw 7, insert the rotor 1 into standpipe 5 and retorque knurled screw 7.
Technical Specs:
1 Rotor: splashwater-proof, rugged plastic housing
3 Telescopic pole: stainless steel pole, extendable up to 20 inches (500 mm)
5 Standpipe: anodized aluminium, diameter 0,98" (25 mm), height 7,8" (200 mm)
Coverage: about 60" dia (1.5 meters)
power unit: geared DC-motor with overload protection
Torque: low torque without risk of injury due to obstacle detection and automated change of rotation
Power-Supply: solar power cells and Li-Ion backup battery (350 mAh, 3,7V)
Controller: integrated microprocessor with day/night detection, sunlight/power balancing
9 Indicator: integrated LED (blinking when active)
8 On/OFF switch: waterproof toggle switch (Low/off/high)
Reling Mount:
BirdBoggle can alternatively be attached with a railing clamp.
By turning the toggle lever 12, the mouth width of the clamp is adjusted to the tube diameter (15-30 mm).
The railing clamp has a ¼" camera thread 13, onto which the rotor 1 is screwed and secured against loosening with its knurled screw 7.
The camera winding 13 is mounted gimbally and allows the rotor 1 to be aligned upright.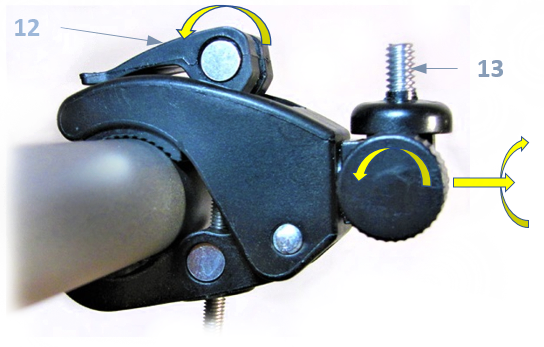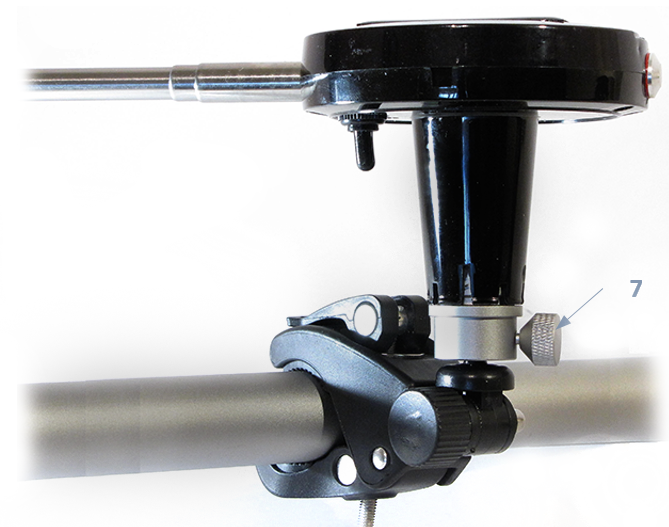 Balcony Mount:
BirdBoggle can also be mounted on a tripod. The tripod is only suitable for stationary locations.
The tripod has a ¼ "camera thread 13, onto which the rotor 1 is screwed and secured against loosening with the knurled screw 7.
The camera thread 13 is mounted gimbally and allows the rotor to be aligned.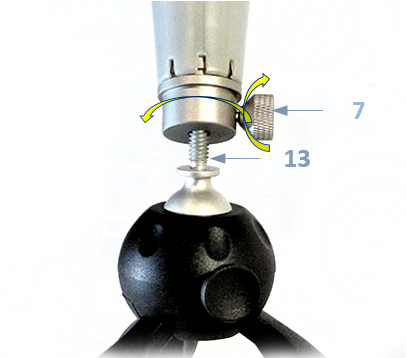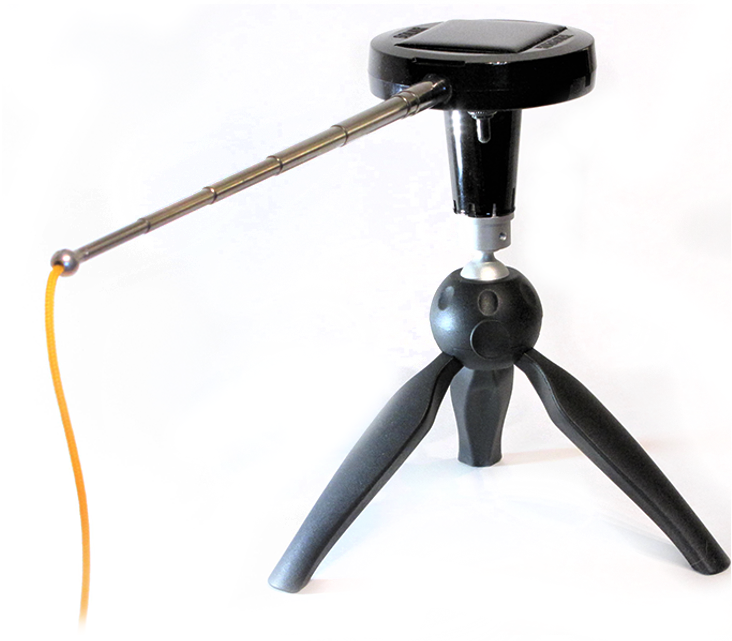 The New QuickClamp:
As an option for BirdBoggle a new clamp is available (only part of the deluxe set).
A socket 16 is permanently attached to the boatdeck. The socket 16 carries a clamping nut 15.
By turning the nut 15 counterclockwise the clamp is opened and the standpipe can be inserted.
Optional also the lower end of BirdBoggle can be inserted directly.
Turning the nut 15 clockwise activates the clamping of the standpipe 14.
The QuickClamp allows attachment and detachment within seconds.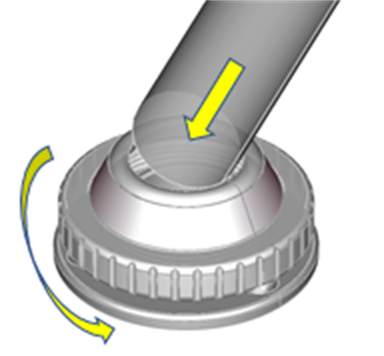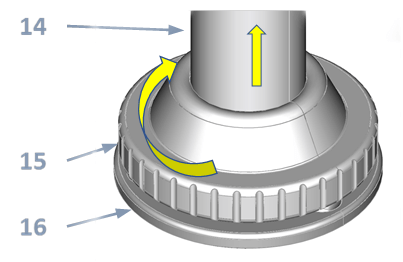 Application-Videos